CycleSpark CargoBikeXL offers a clean and smart city logistic solution. Our goal is to offer a zero-emission and energy efficient solutions that can carry large volume and heavy payload similar to that of diesel van.
Now available: Extra Large Active Cooled CargoBikeXL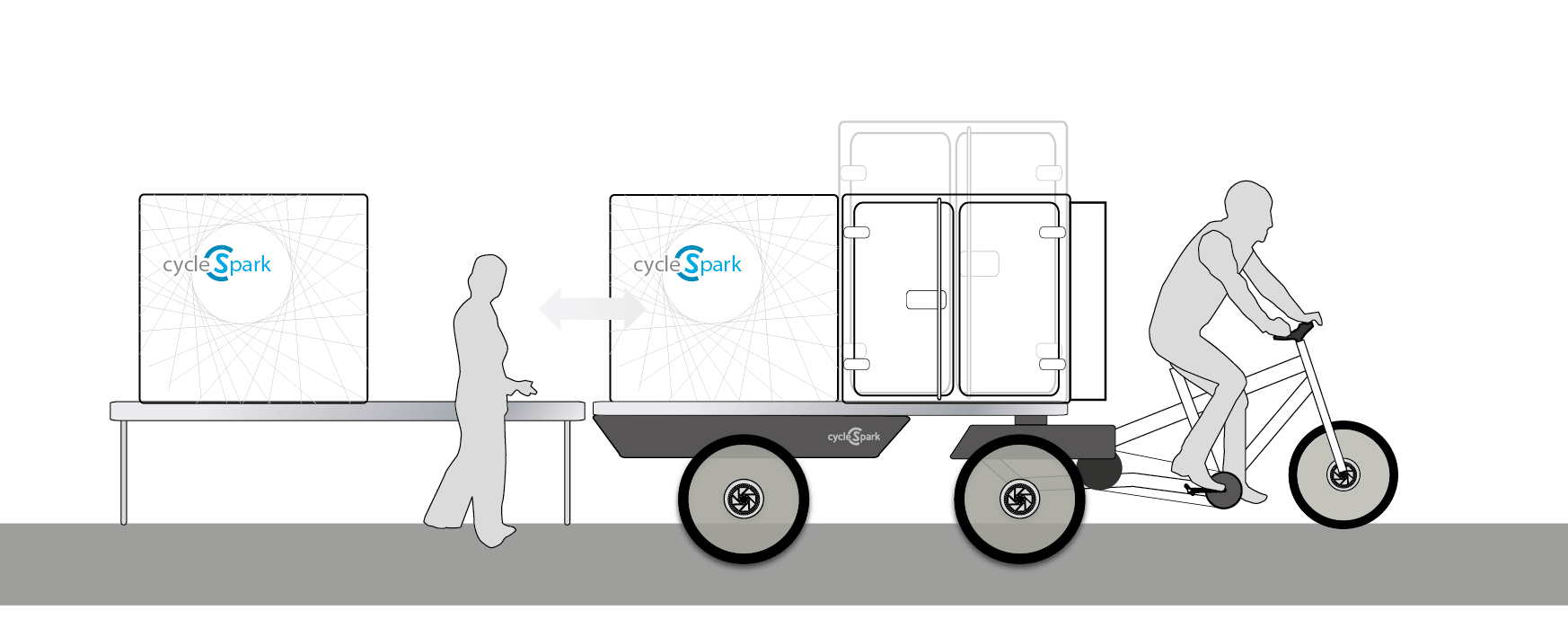 Our current available solution can carry up to 400 kg and up to 4 m2. We can now also offer you a solution including a active insulated box made from polyester+ foam. It has an adjustable temperature between  +2 en +25 graden celsius. It includes a double door with robust lock on the side and rear, custom dimensions are possible, waterproof, accupack is 150Ah, 5 hours autonome operation. For the trike and trailer we currently work together with Cyclus Maximus.
The detachable trailer and/or separate city containers can optimize the logistic process.
We now also offer interesting leasing deals including service and repair and insurance. Please contact us for more information
If you are interested do not hesitate to contact us for a more information or to make an appointment for a test ride. This zero emission cargo e-bike can be customized and branded to the customer wishes. Our cargobikes can be bought or leased. Please contact us for more information.
Below your see our test CycleSpark CargoBikeXL1. We are using a  Cyclus Maximus trike and customized the electronics and box. The special box allows side loading and makes loading and unloading much easier. You can always visit us for a testride.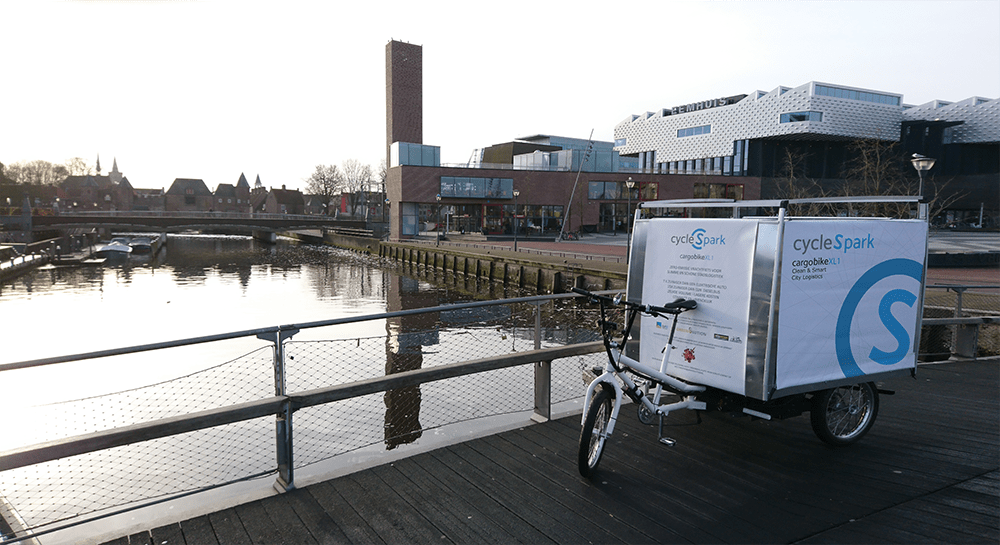 CycleSpark together with 2Wheel Bike Courier on a delivering round in Amersfoort.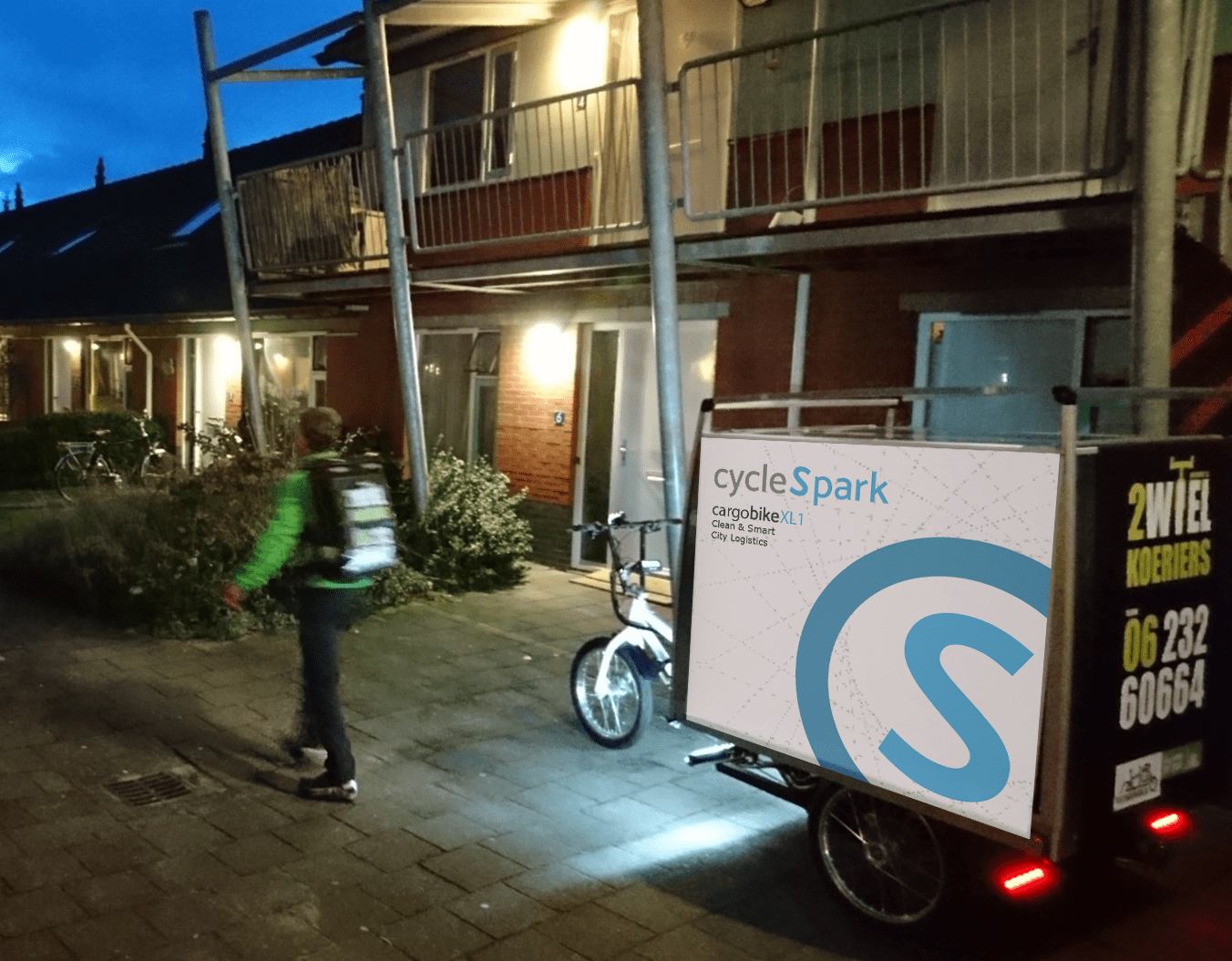 See below movie to get an impression our  product vision. It show the point on the horizon. We like to be part of an new evolution in mobility. The CycleSpark CargoBikeXL is one of the solutions that will give us more sustainable and healthier cities
Compilation of the first test drive from Amersfoort to Nijmegen CargoBikeFestival and back. It was a great experience and gave us new insights good take into our new developments.
The first cargo bike that can load and unload 2 pallets. We experimented with pallets with goods, just to see if it would be possible. And it was possible. We working on a new proto that is integrating all learning from this first test.
First test ride in the city of Amersfoort works out very positive. The bike in action blends in smoothly with the rest of the bikes. Not what you would expect on first sight. But if we don't try we don't know for sure. More pilots will follow to experience if this kind of large bikes could be part of our smart city logistics solution.
De CycleSpark – CargoBikeXL is een extra groot, snel en innovatief voertuig dat onze steden schoner en stiller kan maken. Het is een hybride voertuig dat met een combinatie van humanpower en elektrische ondersteuning wordt aangedreven. Een eerlijke transportmiddel. Groot voor een fiets, maar compact vergeleken met een bestelbusje. De grote stabiliteit zorgt ervoor dat hij snel en soepel door de stad heen kan manoeuvreren. Hij heeft ruimte voor veel vracht: max 5 m2 aan goederen met een maximaal gewicht van 500 kg. Dit wordt een nieuwe voertuig categorie die onze steden schoner, leefbaarder en minder vol maakt. Het unieke van dit CO2 arme voertuig is dat het grote volume het een economisch aantrekkelijk alternatief maakt voor een bestelbusjes, aanhanger of boedelbakken.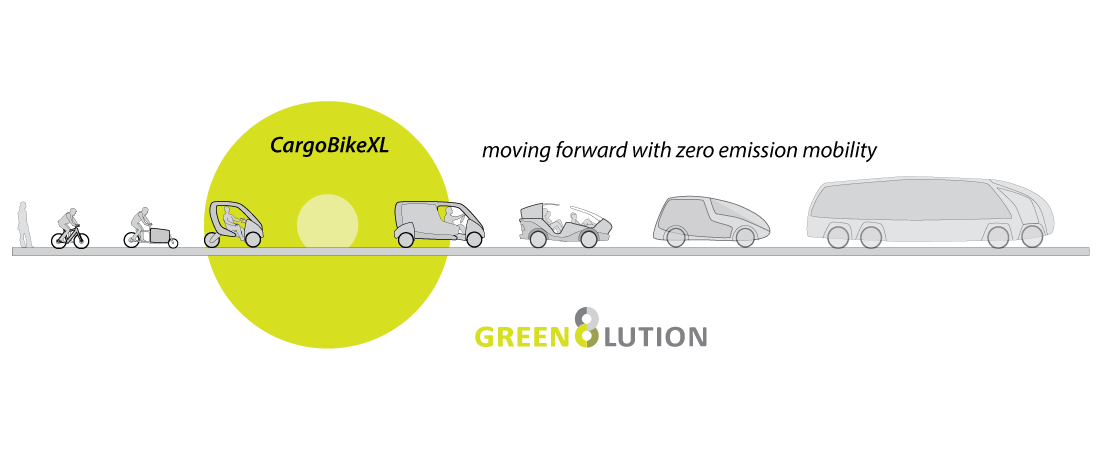 De CargoBikeXL project draagt bij aan het versnellen van de transitie naar duurzame mobiliteit. In Nederland is 23% van onze CO2 uitstoot is afkomstig van gemotoriseerd verkeer. De helft hiervan wordt uitgestoten door bestel- en vrachtauto's die ons voedsel en goederen vervoeren. Europa heeft de ambitie om het wegverkeer met verbrandingsmotor met 60% te reduceren. Als we vanaf morgen allemaal elektrisch zouden kunnen rijden haal je slechts 30% tot 40% reductie. Dat is dus niet voldoende. We zullen dus energie efficiëntere oplossingen moeten gaan gebruiken, zoals onder anderen cargobikes.
CargoBikeXL is een van de producten die Greenolution aan het ontwikkelen is. Dit wordt gedaan met diverse internationale partners. In Amersfoort zal de eerste pilot worden gepland, waarbij een van de eerste proto's zal worden gebruikt.
Wil je graag meer weten stuur dan een mail of bel rustig voor een afspraak. Geïnteresseerden zijn welkom om het eerste prototype te komen bekijken en uitproberen. De CargoBikeXL is  geïntroduceerd op het cargobike festival   www.cargobikefestival.com
CargoBikeXL wint Innovatie challenge Slimme en Gezonde Stad
Zes finalisten presenteerden op donderdag 26 november hun idee op de Innovatiechallenge Slimme en Gezonde Stad van het ministerie van Infrastructuur en Milieu. Een deskundige jury voelde de initiatiefnemers stevig aan de tand over de haalbaarheid, begroting en bijdrage aan een gezonde stad. Greenolution was de uiteindelijke winnaar met de CargoBikeXL en ging naar huis met (een opdracht ter waarde van) 15.000 Euro om het idee verder uit te werken.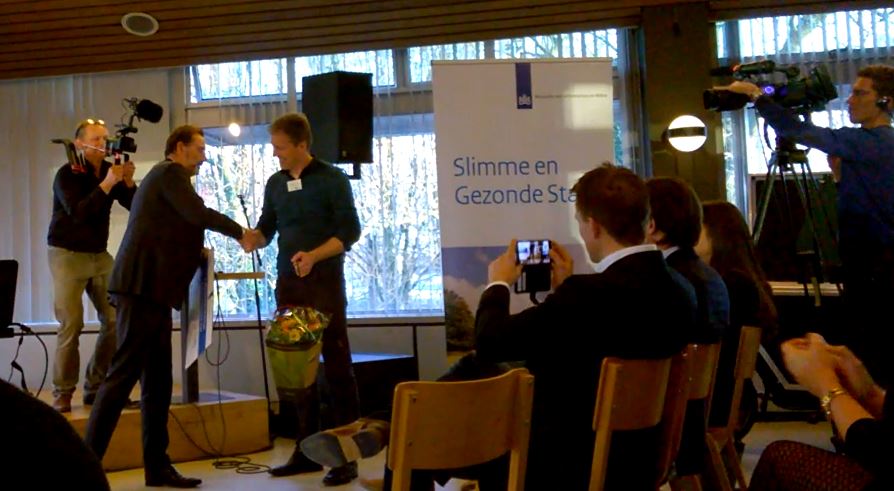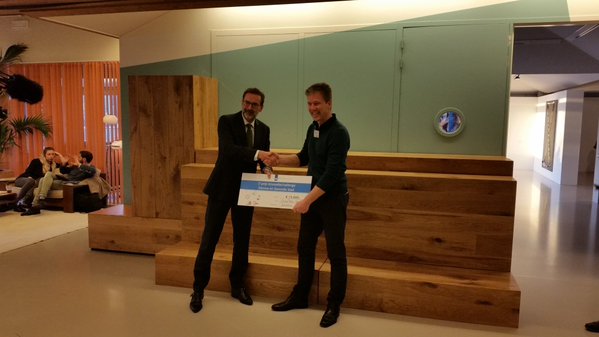 Greenolution was volgens de jury de besliste winnaar met het ontwerp voor een CargoBikeXL. Dit is een hybride voertuig waarmee met een combinatie van humanpower en elektrische ondersteuning tot 5 kuub en 500 kilo aan goederen vervoerd kan worden. Een ideale manier om goederenvervoer in de stad schoner en stiller te maken en daardoor de luchtkwaliteit in steden te verbeteren. De jury vond het idee innovatief, goed doordacht en praktisch uitvoerbaar. Christian Suurmeijer van Greenolution kreeg uit handen van juryvoorzitter Chris Kuijpers, directeur-generaal Milieu en Internationaal, een cheque ter waarde van 15.000 Euro. Daarnaast verbond jurylid Diena Halbertsma van het Longfonds zich als ambassadeur aan het project.